The Incubator provides senior students and young artists the experience of exhibiting their artwork in a public art space.
Students from Brisbane and the Moreton Bay Region are invited to submit creativework for display in our annual exhibition which celebrates the talented young creatives in our community. Prizes are awarded to those artists whose work shows skill, creativity and conceptual depth.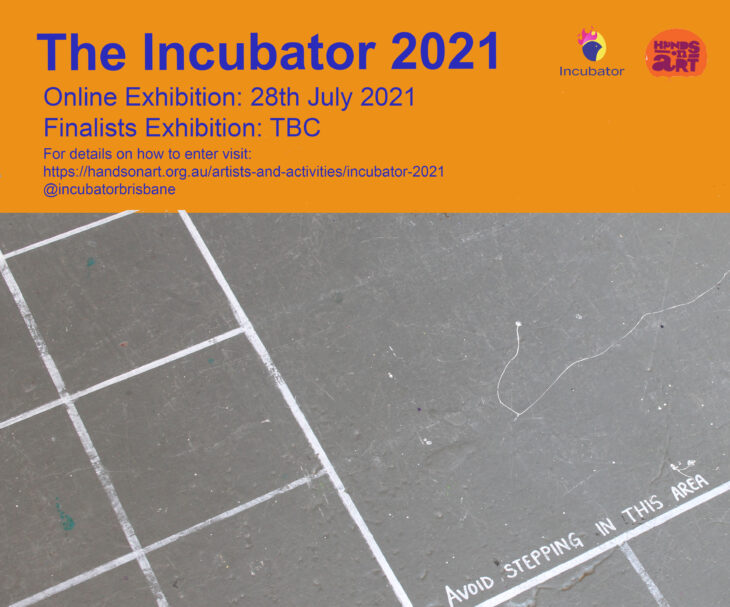 In 2021 and 2020 the Incubator online exhibition showcases all our accepted submissions. Works can be of any medium and include sculpture, photography and video.
Following the online exhibition of all works, some selected artworks will be selected for a physical exhibition held at the Hands On Art gallery.  These artworks will be in contention to win the Incubator main prize as well other prizes.
The main prize like last year is a residency at Hands On Art in their artists' studio. The selected artist will have access to studio and exhibition space and will be able to work alongside and be mentored by experienced Hands On Art artists. This is a great opportunity for a young artist wishing to gain experience in the art industry. The winning artist will also get the chance to exhibit what they make during their residency in the Hands On Art gallery space.
The online exhibition will give visitors the opportunity to vote for their favourite artwork. This artist will receive the People' Choice Award.
revisit the 2020 online exhibition here
2021 Winners
Bailey Lang –  Overall winner of residency and solo exhibition
The Need to See More, Photography
Bailey Lang is a photographer based on the Gold Coast, Australia. The human body, sexuality and the ways in which these themes are communicated is the main approach to Lang's practice. Lang is currently studying a BFA Bachelor of Fine Art at QUT.
Kenia Dixon – winner of second place (Art Shed gift card)
Okaasan, Acrylic on pine
Kenia Dixon is a visual arts student at Ferny Grove State High school in year 12. For her winning artwork she has selected her mother as her muse, attempting to explore concepts of identity, home and belonging. Kenia has also participated in previous Incubator competitions and has been a recipient of our 'art on fences' program.
Isabella Smith – people's choice (Art Shed prize pack) 
AGAIN Sharpie, pencil, watercolour
Isabella Smith is a visual arts student at San Sisto College in year 12. In this piece she explores the concepts of life, death and rebirth. As a budding artist, she is exploring and defining her personal aesthetic, which is emphasised by her choice of media and technique.
Exhibition Dates
Online Exhibition Opens- 28 July 2021
Exhibition at Hands On Art is now finished
Terms and Conditions
All artworks submitted to the Incubator must be completed at time of submission.
Students must be in either Year 11,12 or their 1st year of university or college.
Students are allowed to submit one artwork each however, triptychs and diptychs will be accepted as one artwork.
This year all mediums are accepted including sculpture, photography and video. Online work or digital work is fine as long as it can be viewed online.
Artwork can be from a student's schoolwork or project or an artwork they have made outside of school.
Prizes will be judged and awarded by professional artists. There will also be a people's vote for their favourite artwork which will be announced at the end of the exhibition.
Participation in 2021 is free.
Images must be high resolution (300ppi) and should be of the whole artwork. Try to have your image just of the artwork with nothing else in the background. For sculptures or 3D work where this is not possible please try to take a picture of the work with a plain coloured background, preferably white.